Trekking Holidays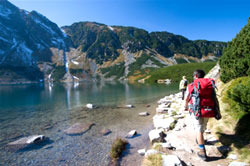 You have your pick of hundreds of trekking holidays worldwide and because everyone's idea of adventure of different, trekking is rising in popularity. There are wonderful, picturesque treks that you can easily book with the help of a dedicated, expert trek operator. Join the adventerous group of trekkers who embark on iconic adventures in some of the most famous regions on the planet such as Langtang and Mount Everest in Nepal and the Valley of Flowers and the Milam Glacier in India. However before you venture out on your once in a liftetime trip, read about what you need to do to rise to the challenge.
Fitness Level
First things first, it is important to assess your personal fitness level before planning trekking holidays, especially if this is your first time on a trek. Peak physical condition is a requirement for challenging treks on tough terrain. Now, if you intend to go on treks that are similar to walking tours, then your normal fitness level will be enough to endure.
Additionally, consider how long you plan to trek every day. Most people are able to trek nearly three hours daily when the terrain is gentle. On mountainous terrain, which is more strenuous, you may be able to cover up to six hours on the ground. If you are in top physical shape, climbing steep mountains for up to eight hours will be a breeze. Make up your mind early about which pace works best you and gives you the time to truly appreciate the natural beauty surrounding you.
Weather, Accommodations and Gear
Trekking holidays can last just a few days, several weeks or a few months. Depending on what region you trek to, you could spend your resting periods in a comfortable mountain lodge, a hut, or camp out underneath the stars. Many of the trekking routes seem like simple walking tours and do not require guidance. By the same token there are other treks that require much more planning and enlisting the help of a tour operator will be of a great benefit to you.
Trek operators are skilled and trained to make sure you have all the tools you need. Items a trek operator will help you choose include, clothing and shoes, food and water, sleeping arrangements and porters for any trekker who is unable to carry loads that are heavy. For unusual, one time treks, you can rent the things your need. You will benefit greatly from the knowledge of a reputable trek operator because they typically are extremely familiar with the terrain.
Remember that weather is one of the most significant factors when you are trekking at high altitudes. Plan your trip during a time when the weather is nice and pleasant and there is very little chance of heavy rains or snow. If you are trekking in the mountain, you will not have much cover if the weather changes, so it's important to be prepared for anything in terms of clothing and gear.
When choosing between trekking holidays you'll find that there are different levels of difficulty and hundreds of routes to pick from. Once you are clear on how physically prepared you are, the weather, accommodations, and gear needed, you can begin to get excited about your route. On foot is arguably the single best way to explore earth's beauty, so treat yourself to a magnificent adventure.