Trekking Holidays In Australia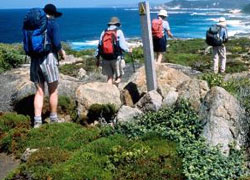 Trekking holidays in Australia are wonderful experiences for people of all ages. Whether you are on a trekking holiday for singles or on a family adventure, you can find a trekking package that is perfect for your situation. You'll be on a wilderness adventure that will leave you awe struck. Join the small handful of people who want to travel down under to catch a glimpse of Australia's original Aboriginal heritage. Treks include the Jatbula Trail in Top End and the Larapinta Trail in the Red Centre, just to name a few.
Planning Trekking Holidays in Australia
Now that you have decided to go on a trekking adventure in Australia, it will be to your advantage to connect with a trekking operator who has expertise in the area you are visiting. A trekking specialist will be able to create a package suited to your needs and meets your criteria for a spectacular trip. Weather will be a huge factor on your trek, so do your research and find out which time of the year is best for trekking to the area you want to visit.
Larapinta Australia Trek
One of the most in demand trekking tours in Australia is the Larapinta. Trekking holidays in Australia to this popular expedition will have you walking between eight and sixteen kilometers daily, carrying only a day pack. You will start out on the tall ridge lines of the West McDonnell Range. From there you will soak up the beauty of vast flood plains and rocky outcrops that have helped to shape this ancient land. From dry rivers of sand you will see twisted gum trees and delicate ferns. This exceptional trek gives you the opportunity to climb Mount Sonder and visit Simpsons Gap as well as Standley Chasm. You will be in the perfect spot to see the whole length of the entire West MacDonnell Range. Take time to reflect on what you see by relaxing in luxury accommodations.
The Jatbula Trail
Trekking holidays in Australia make anything possible as you go on this truly extraordinary experience. An exceptional wilderness area in Australia is the stone country or Arnhem Land Escarpment. You won't be able to take your eyes off of the refreshing waterfalls that tumble from high quartzite cliffs in Nitmilik National Park. And that's not all you'll find in the park. The creeks are lined with shady monsoon forests and the caves are adorned with amazing Jawoyn Aboriginal rock art.
This trek is best visited during months where the weather is cooler. This is the best way to fully experience and enjoy this tropical environment. You will find yourself totally immersed in stunning wilderness because the Jatbula Trail winds right along the edge of escarpment from Katherine Gorge on up to Edith Falls.
Trekking holidays in Australia will cause you to rethink possible. Little wonder Australia is becoming of the most popular holiday spots for trekkers. Before you make your reservation, do your research on the trek and hire an expert trek operator to help you make the best decisions about your trip.